21
« Last post by Francesco | Yesterday at 05:48:11 »
Sarah Hagan - Sun Choke (2015)
Sarah Hagan giving us a foggy look at her body naked as she stands in a shower, and then more clearly showing her breasts before she pulls on a shirt afterward.
Sarah Hagan of Buffy the Vampire Slayer fame reclined in a bath tub showing bare breasts as she has her right leg lifted up so another woman can shave it for her. Sarah then sits up and lifts her arms to shave under them next.
Sarah Hagan naked on top of a guy while having sex with him in bed, giving us a good view of her bare butt while she rides him. We also see her breasts from the side before she picks up a rock from the beside table and swings it at the guy (we just see some blood splatter on the headboard).
Sarah Hagan sitting naked in a bath tub, showing breasts first before she turns on her side and slips into the water, which is tinged with blood.
Sarah Hagan is an actress who is known for her roles on TV series like Buffy the Vampire Slayer and Freaks and Geeks. Her movie credits include titles like Jess + Moss, Spring Breakdown, and Orange County.
Preview: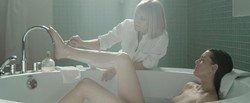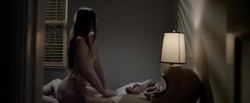 DOWNLOAD:
FileJoker Link:
Sarah_Hagan_-_Sun_Choke_(2015).mp4
File size: 189 Mb
File type: Mp4
Resolution: 1920x800
Duration: 04:21
(celebrity, uncut, Explicit sex scene, uncensored scene, naked, nude)