1
« Last post by Francesco | Today at 08:51:05 »
Gaite Jansen - 170 Hz (2011)
Gaite Jansen briefly seen naked while lying on top of a guy kissing him on a bed giving us a look at her ass and her left breast from the side. Hi-res DVD capture from 170 Hz.
Gaite Jansen seen from above kneeling naked in a bathtub showing her ass and then seen underwater giving us a look at her left breast and nipple before she screams under the water and then is seen from above again.
Gaite Jansen giving us a look at her breasts while lying topless on her back kissing a guy and having him touch her lips before she roles over on to her side.
Gaite Jansen having artsy sex while covered in red paint all as the scene goes back and forth between the sex and her naked as she and the guy throw paint on each other in a fantasy slow motion.
Gaite Jansen standing on a submarine removing her top to reveal a black bra and then her pants to reveal her black panties before walking over to a guy and kissing him and then starting to climb down a ladder into the water.
Gaite Jansen lying out sunbathing in a black bikini before she notices a guy staring at her and then standing up and giving us a better look at her ass as she walks into a house.
Gaite Jansen giving us a brief look at her breasts before she puts on a black bra and has a guy help her fasten it and then giving us a look at her panties as she puts her pants on as well.
Gaite Jansen is a Dutch actress who starred on the TV show Spangas as well as in films such as De Groeten van Mike!, The Entertainment Experience and Lotus.
Preview: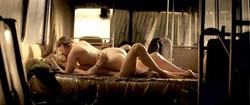 DOWNLOAD:
FileJoker Link:
Gaite_Jansen_-_170_Hz.mp4
File size: 427 Mb
File type: Mp4
Resolution: 720x480
Duration: 19:07
(celebrity, uncut, Explicit sex scene, uncensored scene, naked, nude)